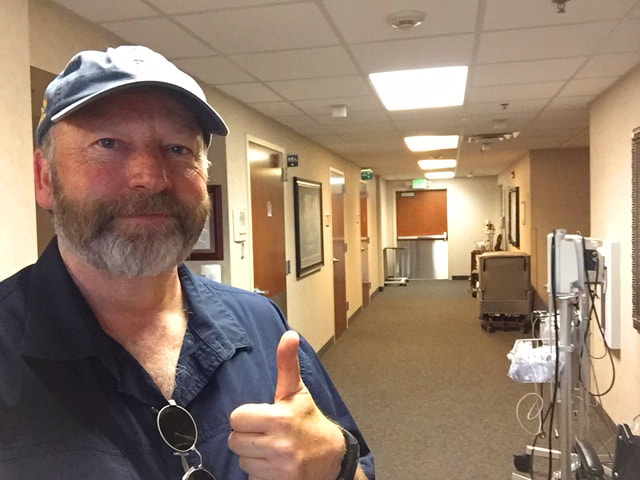 Nurse Gary Update: Final Entry

All surgeries complete; my patient's recovery is in full swing. Lots of dental work & physical therapy ahead, but multiple life threatening stages behind us now, thanks to a host of healthcare professionals that humbly save lives every day, and for me, 'the 3 men I admire the most".

As I navigated this months long inadvertent adventure deep into the healthcare labyrinth of emergency rooms, trauma wards, surgery centers and rehabilitation clinics, I kept asking myself – there has to be a way to make the non-clinical component of this stressful, disorienting and painful experience better – for patients, their support system, and their caregivers.

So, somewhere in between the bright lights, beeping machines, poking, prodding, pain and panic, and I distilled several ideas into technologies and / or products for shaping this traumatic patient experience into a more holistic, human centered, therapeutic pathway. Maybe crazy, but when I floated some of these ideas to nurses, doctors and clinicians, I received a surprising positive response -

"I never thought of that. If you build it, I'll demand it for my patients."

Buoyed by the almost accidental customer validation, next up was a series of meetings with local university professors to outline my design ideas. Stunned at the simplicity of my observations, they quickly concurred that there was indeed a problem that needed to be solved, and together, we could solve it.

'We like your ideas', and better yet, 'We'd like to design, engineer and build several of these ideas with you. Let's get started.'

It's a long way from scribbling notes on an iPhone, while trying to sleep on the floor of the trauma ward, to a delivered minimum viable product that improves the lives of patients and caregivers. A wise man once said,

'The journey to the top of the mountain begins with a single step'. I'd add; packing a map, a compass and a dream - probably useful as well.

Two other guiding principles have served me well in the world of entrepreneurism –

"There is no limit to what can be accomplished if it doesn't matter who gets the credit." ~RWE"A man's got to know his limitations". ~Harry Calahan

Net net; I'm the idea guy, not the engineer. Share the dream; make it happen. So here we go; we may fail at any point, but that's' ok, I've done that before. It's the journey, not the destination that matters.

If you're up for an adventure, come along for the ride. I'll keep you posted..