Creative Destruction of Investments
"Transformation that accompanies radical innovation." ~Joseph Schumpeter
As an entrepreneur, board level advisor and angel investor in digital media, life sciences and software, I seek out the Creative Destruction of Business Models… and look for opportunities to create value when it happens. How can you recognize an opportunity for Creative Destruction? Attend one of my lectures at
Pepperdine University
,
College of Charleston
,
Colorad0 State University
or the
Ventura Biocenter --
you will be enlightened to discover Creative Destruction in investment opportunities you may encounter.
It's like deja vu all over again...

"Take, for instance, the blink of an eye it has taken to all but cripple the U.S. taxi industry. Lyft and UberX (Uber's ride-hailing app for amateur drivers, versus its earlier service for licensed limousines) both started in 2012. On Friday, San Francisco's Yellow Cab cooperative filed for bankruptcy protection, a development."
---
3D Bioprinting

Bio Bots

Avatar Technology Digest

3D Scanning

CLIP

TED Talk - CLIP
---
Crowd Funding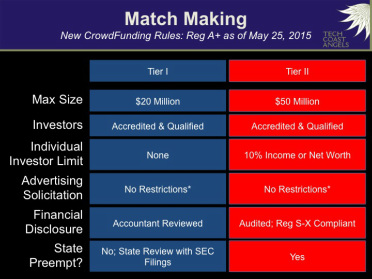 Growing at over 500% per year, Crowdsourcing and now equity CrowdFunding are two of the hottest topics in the startup capital space. Is this the beginning of the end of the Private Equity / Venture Capital model or the end of the beginning?

Kickstarter, IndiGoGo, SeedInvest.. all good place to start your investigation into alternative funding models.
---
| | |
| --- | --- |
| I'm a member of the largest Angel Group in USA and also a member of two key equity CrowdFunding players, more to follow... | --- |
---
Wealth Building Through Better Investments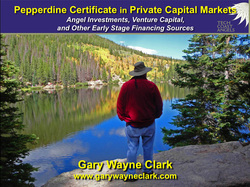 My lecture series, "Angel Investments, Venture Capital and Other Early Stage Financing Sources" is currently a component of the Certificate in Private Capital Markets (CIPCM), a three-day curriculum-based training program developed by Dr. John Paglia in association with his ground breaking research in the
Pepperdine Private Capital Markets Project
. The CIPCM program attendees learn in-depth critical analysis and evaluation skills for transacting successful financing deals within the private capital markets and the valuation methods used by capital providers when evaluating transactions.
Learning Opportunities
Interested in scheduling or attending my guest lecture presentation "Angel Investments, Venture Capital and Early Stage Financing Sources" for Investment Groups / University Business Schools? Just
contact me
below for available dates.
---
Innovation Centers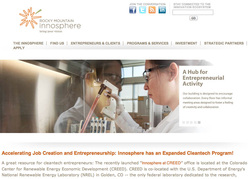 California? Things are happening at the
Ventura BioCenter,
like 3D printing, synthetic polymers and shape changing materials. If you are in Colorado, check out my friends at the
Rocky Mountain Innoshpere.
Accelerating job creation and entrepreneurship,
Rocky Mountain Innosphere
is a 501c3 nonprofit technology incubator formed to accelerate the development and success of high-impact scientific and technology startup companies.
In promoting the development of a regional entrepreneurial ecosystem, Innosphere currently provides support to 39 entrepreneurial startup companies with resources such as assistance with raising capital, help in assembling solid management teams, access and connections with academic and government institutions, a network of advisors and mentors, discounted professional service providers, and educational and networking opportunities.
---
Funding Sources

If you are an entrepreneur in Southern California seeking to raise startup capital, check out
TechCoastAngels
. If your company is located outside of Southern California, you can review the
Angel Capital Association
website for a list of member angel groups in your area.
---
---
---